Check Virginia arrest records and criminal records in every VA county for free by simply following the guide below or using free online searches.
Thankfully, the Freedom of Information Act has given citizens from VA and elsewhere the right to search nearly anyone's information through government databases.
This guide empowers searchers to learn about a person's past and current situation by providing step-by-step instructions on how to:
Check VA criminal and arrest records online, and the best way to request physical copies
See if someone is on probation or parole in Virginia
Find a Virginia inmate's contact details and how to post bail
Expunge or seal records in Virginia
Locate a current state prisoner, or a current or past federal prisoner
Run a VA background check for any reason, whether it's for personal or professional purposes
Check for sexual offenders nearby in VA and the rest of the U.S.
Interpret laws about public records, anti-discrimination and more
Virginia Criminal Records & Arrest Records: Are They Public Records? What Is Not Public Records in VA?
Criminal records for the most part are considered public records in Virginia, but there are some limitations on what can and cannot be released, and who can access certain records.
Under the Virginia Open Records Act, Statute 42.1-76, public records are defined as those generated by a governmental agency in the performance of official duties and can be requested by the general public unless they have been deemed confidential, sealed or expunged, or unless the information would present a danger to the public or the individuals listed in the record.
For example, victim's identifying information can be removed from the record when released, and juvenile records are automatically sealed from public view). Investigative notes can also be withheld until after a case has been disposed of in court.
The Virginia's Freedom of Information Act, Statute 2.2-3700 provides further guidance on how to release records upon request and further limits release of information from closed meetings or confidential documents.
In addition to state laws, federal statutes also provide individuals with access to governmental records which includes criminal history, but outlines how these records can be released and utilized. For one, the Fair Credit Reporting Act prohibits disclosing non-conviction records that are more than seven years on when a commercial entity conducts a background check.
And the Equal Employment Opportunity Commission provides guidance to employers on use of criminal history to ensure the records are not being used in a discriminatory manner. The EEOC also enforces laws against discrimination when using a criminal history to make a hiring decision.
All in all, it's important to know what kinds of records can be accessed, how they differ and where to find each.
Virginia Criminal vs Arrest Records: What Shows Up on Each?
Criminal records can cover a wide array of information from arrests records to full criminal history, and it's vital that searchers understand the difference between the two, as well as how to check if someone has a criminal record.
What Shows on Virginia Arrest Records
Arrest records in Virginia are considered public records and can be accessed at the local or state level. An arrest record only shows arrests, what the person was accused of doing, and where the individual is being housed, not convictions; however, unless it has been expunged from the record, an employer can fire someone for being arrested in Virginia.1
What Appears on Virginia Criminal History Records
Virginia criminal records are much more comprehensive than arrest records, showing information typically found on an arrest record report, court jurisdiction, and disposition of the matter. Criminal records will also show sentencing information such as probation, prison incarceration or diversion program or deferred prosecutions.
For example, a criminal history report will show that a person was charged with one crime, but may have been convicted of a lesser crime due to a plea bargain or diversion program. The criminal history will also show if the charges were dismissed or the person was found not guilty.
Criminal history will also show if someone has been convicted of a disqualifying offense, known as a barrier crime in Virginia, that would automatically disqualify a candidate for a position working with vulnerable populations.2
How To Find Recent Arrests in Virginia for Free (Figure Out Why Someone Is in Jail in VA)
While most states have jails maintained by the sheriff's office in each county, Virginia's system is slightly different and it can be difficult to find recent arrests. There are some counties that maintain a jail just for that county; however, most counties utilize a regional jail authority to house inmates.
People want to know who in their community has been arrested or is currently in jail.
Virginia also has independent cities that are not considered part of the surrounding county. These cities can also have a city lockup or can utilize the regional jail system to house inmates.
It's important to know how to find recent arrests in Virginia.
In addition, searchers need to understand how to find out if someone was arrested, how to find out if someone is in jail, or where to access daily arrests, current arrests, arrest reports or how to find out how to find out someone's charges in jail.
To begin with, the following information must be known when starting a jail inmate search in Virginia:
Arrestee's name.
Where the person was arrested (city or county).
When the person was taken into custody (if the person was just arrested, the information may not show up on an online inmate locator portal or be readily available via telephone).
Which jail serves that particular area.
The next step is knowing how to find out what someone was arrested for. Once this information is gathered, the individual can then conduct a search for the arrestee using the links below.
How To Locate VA Jail Inmates & Mugshots (Run a County Arrest Records Search in Virginia)
Virginia's jail system includes county jails, city jails and regional jail authorities that encompass multiple counties and cities. Certain counties may also utilize more than one jail authority to house inmates.
Whether a person is searching for a friend or family member, or an employee that hasn't reported to work on a given day, this guide provides the steps to finding out if they are in jail.
To conduct a search for someone in a Virginia jail, simply use the table below to find the appropriate county since we took the liberty to compile each county inmate look up tool here.
Otherwise, searchers can do the following:
Open a search engine on the computer and type "[the county the person was arrested in] Virginia inmate locator."
Review the first 2-3 listings that appear for official government agencies (local jails or jail authorities). These sites are not always .gov or .us sites.
Click on the one that matches the county where the person was arrested.
Select the inmate information link or inmate locator link.
Enter the person's first and last name.
Key in any validation codes if required, then click search.
Review the list that opens to find the offender's arrest data.
If there is no online directory, call the number listed for the jail or sheriff's department and inquire about an arrestee.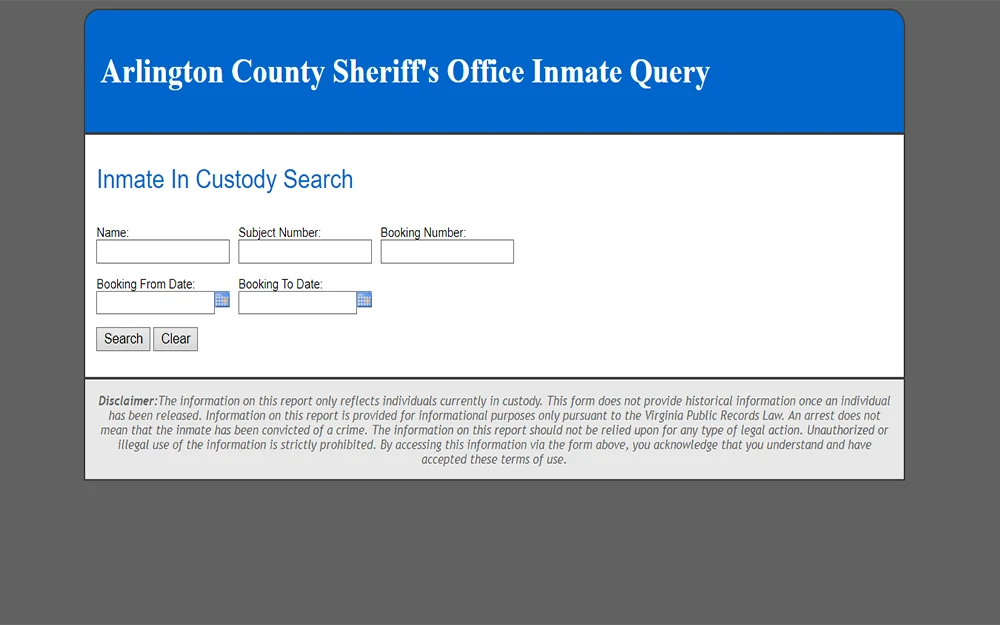 The state doesn't maintain a central mugshot database that is searchable by the public, but local law enforcement may include mugshots in daily arrest reports or jail inmate searches.
The table lists the county and regional jails in Virginia:
County Jail Inmate Search
Counties/Cities Served
Shows Mugshots?
Albemarle-Charlottesville Regional Jail

Albemarle County
Nelson County
City of Charlottesville

X
Alleghany-Covington Regional Jail

Allegheny County
City of Covington

X
Arlington County Sheriff's Office

Arlington County
City of Falls Church

✓
Blue Ridge Regional Jail Authority*

Amherst County
Appomattox County
Bedford County
Campbell County
Halifax County
Pittsylvania County
City of Lynchburg Sheriff's Office
City of Lynchburg Police Department

✓
Central Virginia Regional Jail

Fluvanna County
Greene County
Louisa County
Madison County
Orange County

X
Eastern Shore Regional Jail

Accomack County
Northampton County

X
Hampton Roads Regional Jail

City of Chesapeake
City of Hampton
City of Newport News
City of Norfolk
City of Portsmouth

X
Henrico Regional Jail East

Goochland County
Henrico County
New Kent County

✓
Henrico Regional Jail West

Goochland County
Henrico County
New Kent County

✓
Meherrin River Regional Jail

Brunswick County
Dinwiddie County
Mecklenburg County

X
Middle Peninsula Regional Jail

Essex County
King and Queen County
King William County
Mathews County
Middlesex County

✓
Middle River Regional Jail

Augusta County
Rockingham County
City of Harrisonburg
City of Staunton
City of Waynesboro

✓
New River Valley Regional Jail

Bland County
Carroll County
Floyd County
Giles County
Grayson County
Pulaski County
Wythe County
City of Radford

✓
Northern Neck Regional Jail

Gloucester County
Northumberland County
Richmond County
Westmoreland County
Town of Warsaw

X
Northwestern Regional Adult Detention Center

Clarke County
Fauquier County
Frederick County
City of Winchester

✓
Pamunkey Regional Jail

Caroline County
Hanover County
City of Ahlund

X
Piedmont Regional Jail

Amelia County
Buckingham County
Cumberland County
Lunenburg County
Nottoway County
Prince Edward County

✓
Prince William-Manassas Regional Jail

Prince William County
Town of Occoquan
Town of Quantico
Town of Triangle
Town of Dumfries
Town of Haymarket
City of Manassas
City of Manassas Park

X
Rappahannock Regional Jail

King George County
Spotsylvania County
Stafford County
City of Fredericksburg

✓
Rappahannock Shenandoah Warren Regional Jail

Rappahannock County
Shenandoah County
Warren County

X
Riverside Regional Jail

Charles City County
Chesterfield County
Prince George County
Surry County
City of Colonial Heights
City of Hopewell
City of Petersburg

✓
Roanoke County Sheriff's Office
✓
Rockbridge Regional Jail

Rockbridge County
City of Buena Vista
Town of Goshen
Town of Glasgow
City of Lexington

X
Rockingham-Harrisonburg Regional Jail

Rockingham County
City of Harrisonburg

X
Southside Regional Jail

Greenville County
City of Emporia

X
Southwest Virginia Regional Jail

Buckingham County
Dickinson County
Lee County
Russell County
Scott County
Smyth County
Tazewell County
Washington County
Wise County
City of Bristol
City of Norton

✓
Virginia Peninsula Regional Jail

James City County
York County
City of Poquoson
City of Williamsburg

✓
Western Tidewater Regional Jail

Isle of Wight County
City of Franklin
City of Suffolk

X
Western Virginia Regional Jail

Franklin County
Montgomery County
Roanoke County
City of Roanoke
City of Salem
Note, regional jails without a link do not have an online portal to search for inmates; therefore, searchers must call the number listed to inquire about an arrestee.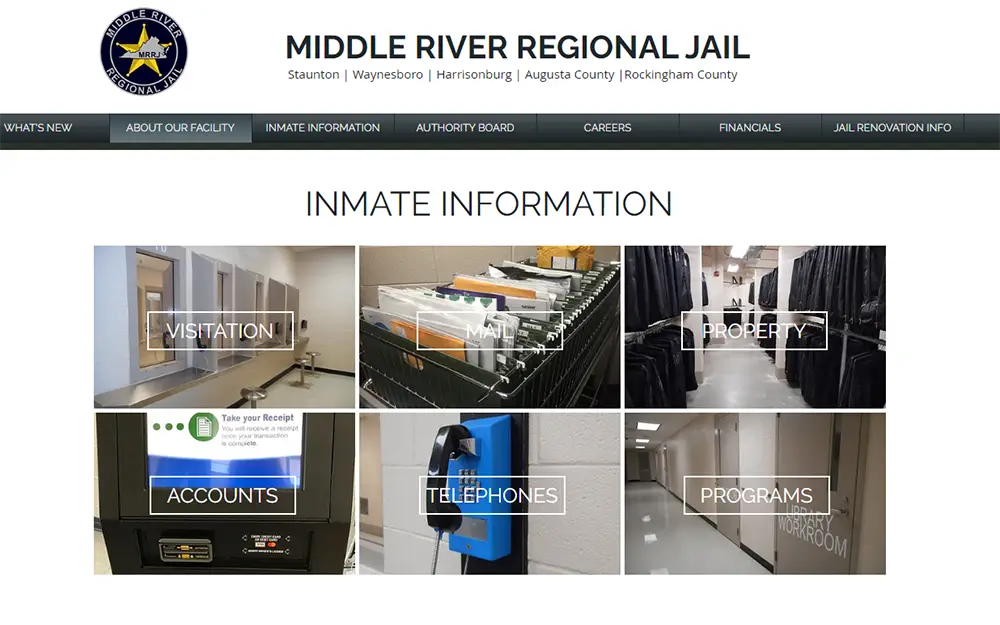 Some county jails do not use the regional jail system, but also do not publish an inmate roster online. For these jails listed below, follow these steps to locate an arrestee:
Open Google or another search engine on the computer.
Type "[name of the county or city] Virginia arrest search" and put in the appropriate county or city name in the brackets.
Click the official link for the law enforcement agency. This is usually in the top 1-4 listings on the page and will often be a .gov or .us site; however, it may be a .net or .org.
Contact the county sheriff's office using the number listed on the website.
Provide the officer with the person's first and last name, date taken into custody, and your relationship with the person.
Give any additional information requested.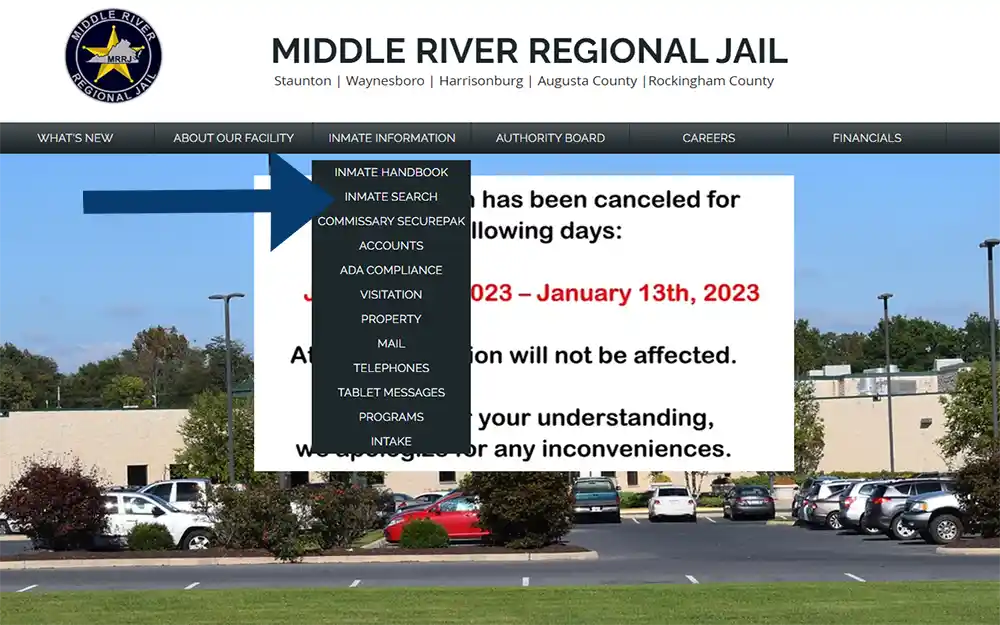 The table below lists the counties that do not have online search portals:
In addition to the regional and county jails, there are some municipal facilities that also house arrestees in that city's jurisdiction.
How To Search City Jails Arrest Records in Virginia (Look Up Recent Arrests & Mugshots in VA)
City jail searches are similar to those for county facilities when looking for arrest records in Virginia. The regional jail system is available to cities and the table above lists the cities that are covered by the regional jail system.
To search city jails for an inmate, complete these steps:
Open a search engine such as Google.
Type "[Name of the city the person was arrested in] Virginia Inmate Search."
Review the top listed results for the official agency website, typically a .gov or .us site, but sometimes these agencies have .org or .net sites.
From the agency website, click the inmate locator link or call the number provided to find an arrestee.
Search using the individual's first and last name.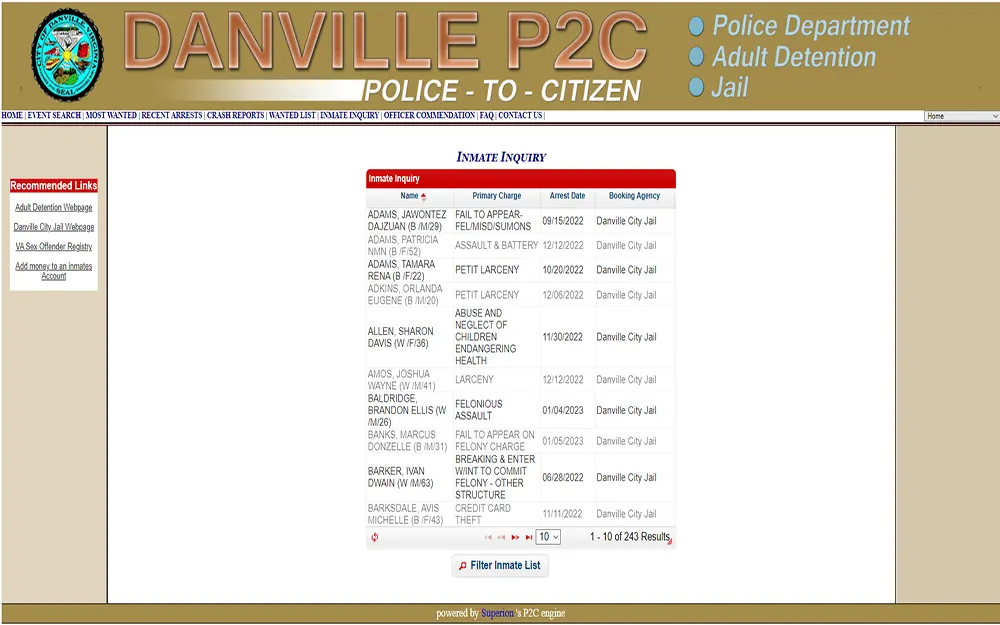 The table below shows those cities that maintain their own detention facilities to house inmates. Those with a link provided have an online search portal:
For smaller towns or cities that are not considered independent cities in the state, a search for an arrestee should start with the regional jail for that county. Searches can also call the local law enforcement agency to see where a person was taken following an arrest.
How To Do a Public Arrest Record Search in VA Through the Virginia State Police CARE
Arrest records in Virginia can be accessed through the Virginia State Police as part of an overall statewide criminal records check. The steps below provide searchers with guidance on how to find out if someone has been arrested in Virginia. To conduct a CARE search, do the following:
Visit the

Virginia State Police government website.
Scroll down the page and click the link for CARE, Civil and Applicant Records Exchange.
Select option 1 from the list to conduct a general public search.
Choose the form for the search requested.
Fill in the search information section.
Complete the mail results to box.
Add contact information.
If the person is requesting their own record, they can enter payment information here and have it notarized through the online system.
For those requesting records for someone else, this form must be completed and printed. Signatures for the person requesting the record and the subject of the search must be notarized.
Mail in forms must be sent, along with the $15 fee) to:
CARE: Civil and Applicant Records Exchange
VSP
Post Office  Box 85076
Richmond Virginia 23285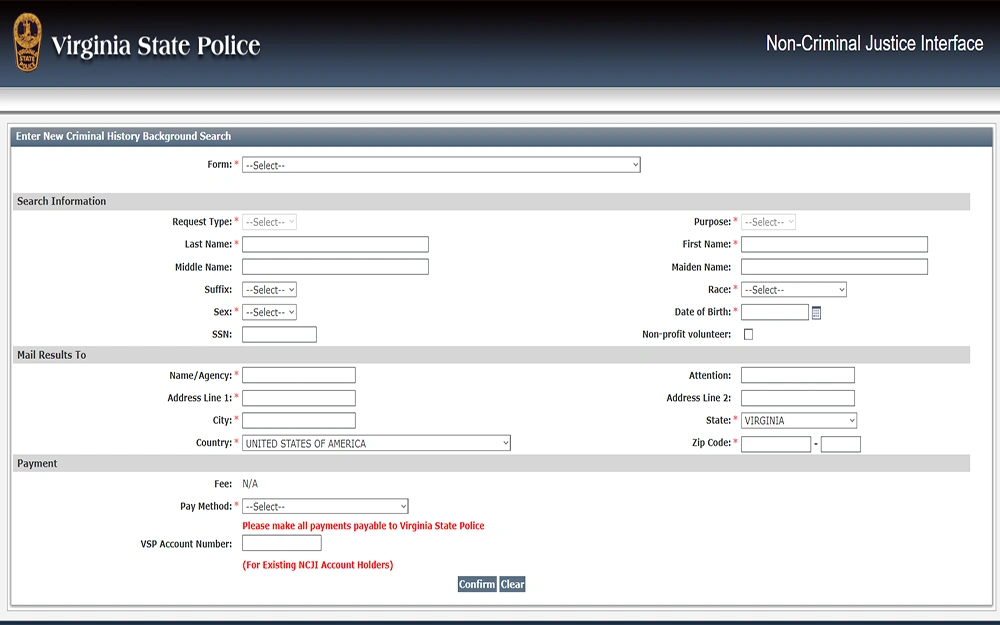 Results will be mailed within 15 business days after mailing in the form. This provides a Virginia statewide criminal history which includes all arrest reports from any county or independent city in the state.
How To Contact a Jail Inmate & Post Bail in Virginia
Locating someone in jail in Virginia is necessary to posting bail or being able to contact the individual to assist in retaining an attorney, providing funds for the inmate to use, and generally helping the person stay in contact with family and friends.
Keeping contact with an inmate in jail helps to get bail posted quicker, work on the person's defense, or just keep their spirits up while incarcerated, and the steps below provide people with the knowledge needed to maintain contact.
In order to contact someone or post bail in Virginia you can use the tables above to find the appropriate jail and/or Sheriff's office, but instead of navigating to the inmate locator, navigate to the contact or visitation page.
For example, if someone is incarcerated in the Northwest Regional Adult Detention Center, this link opens the inmate information page which outlines how to contact someone who's in jail at this facility. Each link on this page provides information pertaining to the process.3
Within the first 48 hours at this facility, a person is brought before a magistrate for the purpose of a bond hearing. Once this has taken place, family and friends can work to post bail.4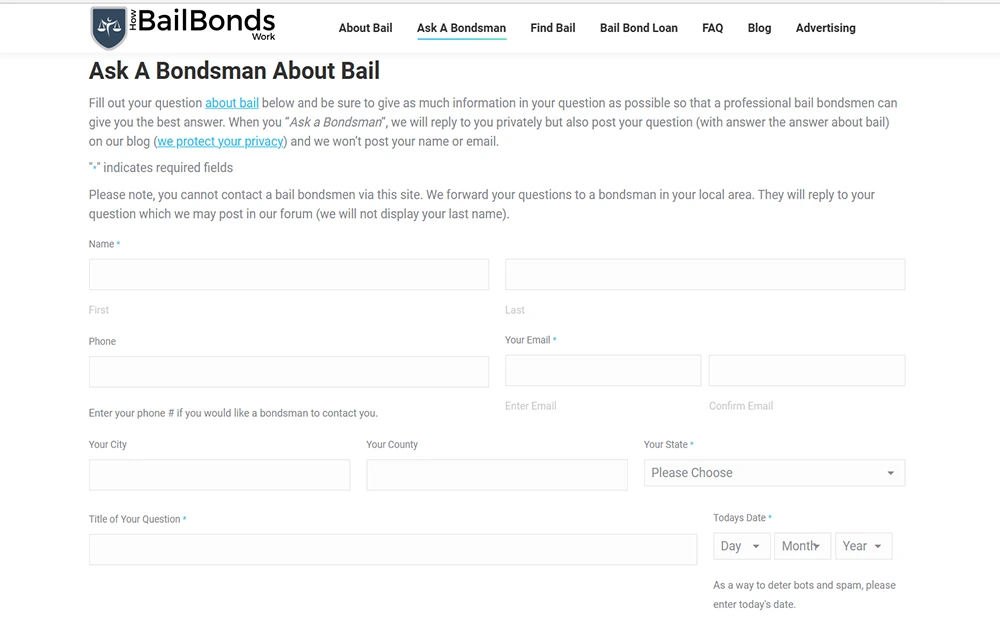 Posting bail can happen in a variety of ways. First, the judge or magistrate has the option of releasing an inmate on his or her written promise (signature) to appear in court at the hearing date without having to provide property or cash as bail.
Individuals can also ask family or friends to post bond which sometimes includes making a cash payment or pledging property against the person's future appearance in court. When family or friends cannot afford to post bond or do not have property to apply toward bond, they can hire a bail bondsman to help with the individual's release.
A bail bondsman only requires a percentage of the overall amount to post bond. Bail bondsmen in Virginia can charge a 10-15% nonrefundable fee to provide bonding services for an inmate.5
Searchers can also hire an attorney to assist with getting an inmate released on bail or on a written promise. The attorney can also help build a defense to work on getting the charges dismissed or working toward an acquittal.
Both a bail bondsman and attorney are not necessarily required to locate and contact an inmate, but they can both be very beneficial.
How To Look Up Criminal Records in Virginia (Search VA Criminal Records Through the Virginia Judiciary)
Another resource for criminal records in Virginia is by searching through the state judicial system.
Employers, landlords and individuals can follow the guidance to obtain a criminal history report on someone for a variety of reasons. Follow the steps below to search criminal records through the Virginia Judiciary:
Navigate to the

official website for the Virginia Judiciary

.

Click the link for the Online Case Information System.
Read the terms and conditions and click accept.
Key in the first and last name of the search subject.
If a disclaimer appears about processing payments, click the button to acknowledge. There is no charge for viewing records online, this pertains to making online payments for court fines and fees.
Multiple records may appear on the screen. Choose the records that match the subject and click the link for each.
Information available through the Virginia Judiciary includes the defendant's name, gender, race and partial date of birth. It also includes the charges filed, if it's a misdemeanor or felony, whether or not the person bonded out or is still in custody.
Finally, court records include disposition in the case.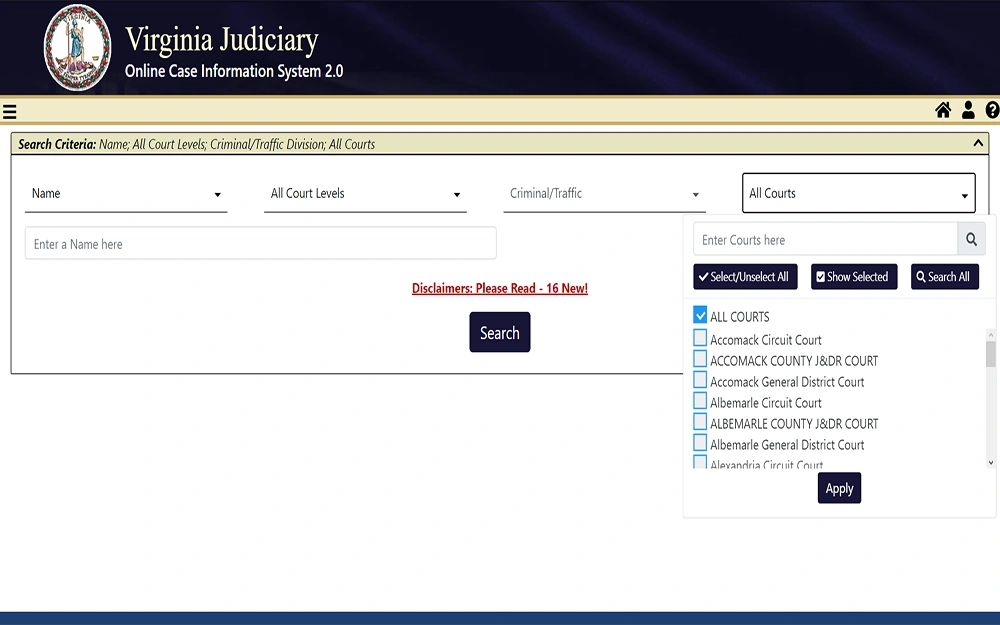 Judicial records can also be accessed at the local courthouse through the clerk of court's office.
How To Search Virginia Criminal Records & Use the County Clerk of Court Case Access
Court data can also be accessed at the local clerk of court's office, and individuals can turn to the clerk's office to get specific data on a case.
To find the local clerk of court and search criminal records, follow the steps below:
Open a search engine such as Bing, Google or Yahoo!
Type "[name of the city or county the record originated in] Virginia clerk of court". This could be a .gov or .us site, or it may be a .org or .net.
Look at the return results for the official website to get the court location.
Go to the local clerk of court's office.
Using one of the public terminals, enter the subject's first and last name to find court records.
If a printout is required, check with the clerk of court's office to see how much a printout will cost and pay the fee.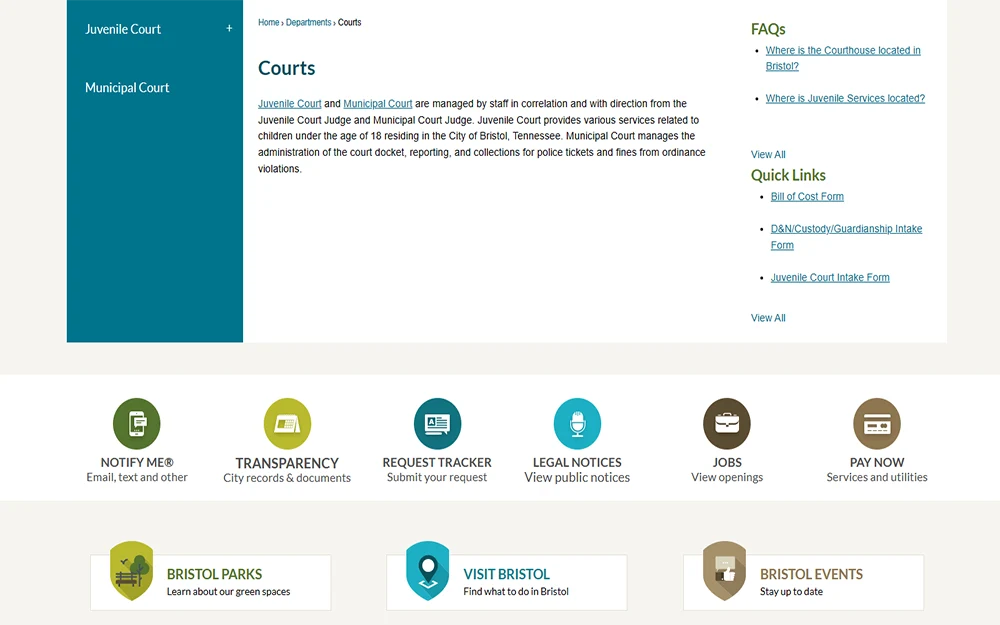 The table below lists the clerk of court for each criminal district court in Virginia. If individuals cannot find courthouse information using the steps above, they can contact the clerk's office using the number in the table below:
Clerk of Court by County or Independent City
Address
Phone Number
Accomack
23371 Front St
Accomac Virginia 23301-0276
757-787-0923
Albemarle
501 East Jefferson St, Ste 138
Charlottesville Virginia 22902-5110
434-972-4004
Alexandria
520 King St, Floor 2
Alexandria Virginia 22320-4489
703-746-4030
Alleghany
266 W Main St
Covington Virginia 24426-0139
540-965-1720
Amelia
16441 Court St
Amelia Virginia 23002-0024
804-561-2456
Amherst
113 Taylor St
Amherst Virginia 24521
434-946-9351
Appomattox
297 Court St, Floor 2
Appomattox Virginia 24522-0187
434-352-5540
Arlington
1425 N Courthouse Rd, Ste 2400, Floor 2
Arlington Virginia 22201-2622
703-228-7900
Augusta
6 E Johnson St, Floor 2
Staunton Virginia 24401-4398
540-245-5300
Bath
County Courthouse
Warm Springs Virginia 24484-0096
540-839-7241
Bedford
123 E Main St, Ste 202
Bedford Virginia 24523-2034
540-586-7637
Bedford City
123 E Main St, Ste 202
Bedford Virginia 24523-2034
540-586-7637
Bland
612 Main St, Ste 106


Bland Virginia 24315-0157

276-688-4433
Botetourt
20 East Back St, Ste A
Fincastle Virginia 24090-4537
540-928-2270
Bristol
497 Cumberland St, Room 208
Bristol Virginia 24201-4393
276-645-7341
Brunswick
202 N Main St
Lawrenceville Virginia 23868-1808
434-848-2315
Buchanan
1012 Walnut St, Ste 309
Grundy Virginia 24614
276-935-6526
Buckingham
County Courthouse
Buckingham Virginia 23921-0127
434-969-4755
Buena Vista
2039 Sycamore Ave
Buena Vista Virginia 24416
540-264-2163
Campbell
732 Village Hwy
Rustburg Virginia 24588-0097
434-332-9546
Caroline
County Courthouse
Bowling Green Virginia 22427-0511
804-633-5720
Carroll
605 Pine St
Hillsville Virginia 24343-0698
276-730-3050
Charles City
10780 Courthouse Rd
Charles City Virginia 23030-0057
804-652-2188
Charlotte
115 David Bruce Avenue
Charlotte Courthouse Virginia 23923-0127
434-542-5600
Charlottesville
606 E Market St
Charlottesville Virginia 22902-2677
434-970-3388
Chesapeake
307 Albemarle Dr, Civic Ctr
Chesapeake Virginia 23322-5571
757-382-3100
Chesterfield
9500 Courthouse Rd
Chesterfield Virginia 23832-0144
804-748-1231
Clarke
104 N Church St
Berryville Virginia 22611-0612
540-955-5128
Colonial Heights
550 Blvd
Colonial Heights Virginia 23834
804-520-9346
Craig
182 Main St, Ste 5
New Castle Virginia 24127-0232
540-864-5989
Culpeper
135 West Cameron St
Culpeper Virginia 22701-3045
540-727-3417
Cumberland
1 Courthouse Cr
Cumberland Virginia 23040-0024
804-492-4848
Danville
401 Patton St
Danville Virginia 24543-3300
434-799-5179
Dickenson
119 Courthouse Ln
Clintwood Virginia 24228-0128
276-926-1630
Dinwiddie
Dinwiddie County Courthouse
Dinwiddie Virginia 23841-0280
804-469-4533
Emporia
315 S Main St
Emporia Virginia 23847
434-634-5400
Essex
300 Prince St
Tappahannock Virginia 22560
804-443-3744
Fairfax
4110 Chain Bridge Rd, Ste 210
Fairfax Virginia 22030-0458
703-246-3305
Fairfax City
10455 Armstrong St
Fairfax Virginia 22030-3600
703-385-7866
Falls Church
300 Park Ave, Ste 151-W
Falls Church Virginia 22046-3301
703-248-5096
Fauquier
6 Court St
Warrenton Virginia 20186-3299
540-422-8035
Floyd
100 East Main St, Rm 208
Floyd Virginia 24091-2101
540-745-9327
Fluvanna
72 Main St, Ste B
Palmyra Virginia 22963-0417
434-591-1980
Franklin
275 South Main St, Ste 111
Rocky Mount Virginia 24151-1758
540-483-3060
Franklin City
1020 Pretlow St
Franklin Virginia 23851-2067
757-562-8550
Frederick/Winchester
5 N Kent St
Winchester Virginia 22601-5037
540-722-7208
Fredericksburg
701 Princess Anne St, Ste 200
Fredericksburg Virginia 22401
540-372-1043
Galax
353 N Main St, Ste 204
Galax Virginia 24333-2911
276-236-8731
Giles
120 N Main St, Ste 1
Pearisburg Virginia 24134
540-921-3533
Gloucester
7400 Justice Dr, Rm 102
Gloucester Virginia 23061
804-693-4860
Goochland
2938 River Rd W
Goochland Virginia 23063-0047
804-556-5309
Grayson
129 Davis Street
Independence Virginia 24348-0280
276-773-2011
Greene
85 Stanard St
Stanardsville Virginia 22973-0245
434-985-5224
Greensville
315 S Main St
Emporia Virginia 23847-2027
434-634-5400
Halifax
8 S Main St, Ste 200
Halifax Virginia 24558-2508
434-476-3385
Hampton
236 N King St, Floor 2
Hampton Virginia 23669-3518
757-727-6260
Hanover
7530 County Complex Road, Floor 1
Hanover Virginia 23069-0176
804-365-6191
Harrisonburg/Rockingham
53 Court Sq, Rm 132
Harrisonburg Virginia 22801-3700
540-564-3130
Henrico
4309 E Parham Rd
Henrico Virginia 23273-0775
804-501-4723
Henry
3160 Kings Mountain Rd, Ste A
Martinsville Virginia 24112-3965
276-634-4815
Highland
165 W Main St
Monterey Virginia 24465-0088
540-468-2445
Hopewell
100 E Broadway
Hopewell Virginia 23860-2715
804-541-2257
Isle of Wight
County Courthouse
Isle of Wight Virginia 23397
757-365-6244
King & Queen
242 Allens Cr
King & Queen Virginia 23085
804-785-5982
King George
9483 Kings Hwy
King George Virginia 22485-0279
540-775-2390
King William
351 Courthouse Ln, Suite 201
King William Virginia 23086
804-769-4947
Lancaster
8265 Mary Ball Rd
Lancaster Virginia 22503-0129
804-462-0012
Lee
33640 Main Street, Ste 209
Jonesville Virginia 24263
276-346-7729
Lexington/Rockbridge
20 S Randolph St, Ste 200
Lexington Virginia 24450-2552
540-463-3631
Loudoun
18 E Market St
Leesburg Virginia 20176-2828
703-777-0312
Louisa
314 W Main St
Louisa Virginia 23093-0452
540-967-5330
Lunenburg
160 Courthouse Sq, Ste 201
Lunenburg Virginia 23952-2223
434-696-5508
Lynchburg
905 Court St
Lynchburg Virginia 24504-1603
434-455-2630
Madison
2 Main St
Madison Virginia 22727-0470
540-948-4657
Martinsville
55 W Church St
Martinsville Virginia 24114-1402
276-403-5125
Mathews
10622 Buckley Hall Rd
Liberty Sq
Mathews Virginia 23109
804-725-2242
Mecklenburg
911 Madison St
Boydton Virginia 23917-0306
434-738-6260
Middlesex
73 Bowden St
Saluda Virginia 23149
804-758-4312
Montgomery
55 E Main St, Floor 3
Christiansburg Virginia 24073-3073
540-394-2086
Nelson
84 Courthouse Sq
Lovingston Virginia 22949-0514
434-263-7040
New Kent
12001 Courthouse Cr
New Kent Virginia 23124-0127
804-966-9530
Newport News
2500 Washington Ave, Floor 2
Newport News Virginia 23607-4307
757-926-8811
Norfolk
150 Saint Paul's Boulevard, Rm 3202
Norfolk Virginia 23510-2747
757-664-4915
Northampton
5229 The Hornes
Eastville Virginia 23347
757-678-0466
Northumberland
220 Judicial Pl
Heathsville Virginia 22473-0114
804-580-4323
Nottoway
328 W Courthouse Rd
Nottoway Virginia 23955
434-645-9312
Orange
110 N Madison Rd, Ste 100
Orange Virginia 22960
540-672-6164
Page
116 S Court St, Ste B
Luray Virginia 22835-1200
540-743-5705
Patrick
106 Rucker St, Admin Building, Rm 318
Stuart Virginia 24171-0149
276-694-7258
Petersburg
35 E Tabb St
Petersburg Virginia 23803-4518
804-733-2374
Pittsylvania
11 Bank St, Ste 201
Chatham Virginia 24531-0695
434-432-7879
Portsmouth
1345 Court St, Ste 104
Portsmouth Virginia 23705-0129
757-393-8681
Powhatan
3880 D Old Buckingham Rd
Powhatan Virginia 23139-7052
804-598-5665
Prince Edward
111 South St
Farmville Virginia 23901-1354
434-392-4024
Prince George
6601 Courts Dr
Prince George Virginia 23875-0187
804-733-2781
Prince William
9311 Lee Ave
Manassas Virginia 20110-5586
703-792-6141
Pulaski
45 3rd Street, Northwest, Ste 102
Pulaski Virginia 24301-5041
540-980-7470
Radford
619 2nd St
Radford Virginia 24141-1456
540-731-3609
Rappahannock
250 Gay St
Washington Virginia 22747-0206
540-675-5356
Richmond
201 Court Cr
Warsaw Virginia 22572
804-333-4616
Richmond City
400 North Ninth St
Richmond Virginia 23219-1549
804-646-6431
Roanoke
305 E Main Street
Salem Virginia 24153-0997
540-387-6168
Roanoke City
315 West Church Avenue Southwest, Floor 2
Roanoke Virginia 24016-5007
540-853-2767
Russell
53 East Main St
Lebanon Virginia 24266-0065
276-889-8051
Salem
2 E Calhoun St
Salem Virginia 24153
540-375-3044
Scott
202 W Jackson St, Ste 203
Gate City Virginia 24251-3417
276-386-7341
Shenandoah
215 Mill Rd, Ste 128
Woodstock Virginia 22664-1409
540-459-6130
Smyth
109 W Main St, Ste 1022
Marion Virginia 24354-2534
276-782-4047
Southampton
1020 Pretlow St
Franklin Virginia 23851-2070
757-653-2673
Spotsylvania
9111 Courthouse Rd, Floor 1
Spotsylvania Virginia 22553-0339
540-507-7680
Stafford
1300 Courthouse Rd
Stafford Virginia 22555-0940
540-658-8935
Staunton
113 East Beverley Street, Floor 1
Staunton Virginia 24401-4390
540-332-3878
Suffolk
150 N Main St
Suffolk Virginia 23434-4552
757-514-4822
Surry
45 School St
Surry Virginia 23883-0332
757-294-5201
Sussex
15098 Courthouse R
State Rte 735
Sussex Virginia 23884
434-246-1096
Tazewell
135 Court St, Ste 300
Tazewell Virginia 24651-1081
276-385-1563
Virginia Beach
2425 Nimmo Pkwy
Virginia Beach Virginia 23456-9057
757-385-8531
Warren
Courthouse Sq
1 E Main Street
Front Royal Virginia 22630
540-635-2335
Washington
191 E Main St
Abingdon Virginia 24210-2858
276-676-6279
Waynesboro
250 S Wayne Ave, Ste 100
Waynesboro Virginia 22980-4625
540-942-6636
Westmoreland
175 Polk St
Montross Virginia 22520
804-493-0105
Williamsburg/James City
5201 Monticello Ave, Ste 2
Williamsburg Virginia 23188-8218
757-564-2400
Wise/Norton
206 E Main St
Wise Virginia 24293-0829
276-328-3426
Wythe
245 S Fourth St, Ste 205
Wytheville Virginia 24382-2548
276-223-6079
York
300 Ballard St
Yorktown Virginia 23690-0316
757-890-3450
The clerk of court is tasked with maintaining all the records generated in the courts in that county or city; therefore, this is an excellent source for court records.
Perform a Statewide Criminal Record Search Through the Virginia State Police
Virginia criminal records statewide can be accessed through the Virginia State Police. VSP is the official criminal record repository in the state.
Criminal records checks through the state police require notarized signatures of the person requesting the search and the subject of the search.
To complete a statewide criminal records search through the Virginia State Police do the following:
Go to the Virginia State Police website.
Click the link for CARE, Civil and Applicant Records Exchange which appears midway on the page.
Choose option one for a general public search.
Select the type search requested such as a personal record request, an official agency request, or a national check for employees or volunteers with an agency.
In the search information section, add the required information.
Add information on who will receive the record.
Include searcher's contact information.
If the person is requesting their own record, they can enter payment information here and have it notarized through the online system.
For those requesting records for another person, this form must be completed and printed. Signatures for both the searcher and the subject of the search must be notarized.
Take the form to the nearest notary to sign and have verified.
Mail notarized forms, along with the $15 fee) to:
CARE: Civil and Applicant Records Exchange
VSP
Post Office  Box 85076
Richmond Virginia 23285
By following the steps above, anyone can access Virginia State Police statewide criminal records which include both arrest records and full criminal history. The Virginia State Police is the official public records repository for criminal records and background checks in the state, and are the only ones that can be used for official decisions such as hiring or leasing.
Learn How To Request a Copy of Criminal Records in Virginia
A copy of a person's Virginia criminal record can also be obtained from the law enforcement agency in the searcher's area. The steps below outline how a person can get a criminal record for personal or professional use from the local police.
To get a criminal record copy from local law enforcement do the following:
Open a search engine of your choice or Google.
Type "[name of the city or county the criminal record originated in] Virginia criminal record search" and hit enter.
Check the first 1-3 sites on the results returned to look for the official website. Be aware, local law enforcement websites may be a .gov or .us site, but they may also be a .org, .com, or .net site.
Click the link for records unit or division on the website.
Follow the instructions listed in that section for obtaining a criminal history.
Each agency may have different methods of getting the record, and some may require a nominal fee for searching, printing and mailing or delivering the record. Records may be just for that jurisdiction or for the entire state depending on the department. Records may vary in what they reveal as well.
For example, they may show charges in that county, but not if the person was placed on probation or parole.
How Do I Find Out Who Is on Probation or Parole in Virginia?
Sometimes defendants are convicted of crimes but not placed in prison, so individuals need to know how to conduct a probation search. Rather than incarceration the defendant is placed on supervised probation.
Also, defendants sentenced to prison can be released early on community supervision also known as parole. In both cases, the person is still under court ordered supervision, but they are allowed to live and work in the local community.
Supervised probation and parole is a function of the Virginia Department of Corrections, but the offender locator on the DOC website only shows individuals who are in custody (meaning currently incarcerated in a prison, work camp or jail that houses post-sentencing inmates in addition to pre-trial).
Victims are especially interested in knowing if the person that harmed them is in prison or have been placed on probation, or if the person was released from prison early on parole.
To find out if someone is on a parolee database or on probation in Virginia, do the following:
Visit the

Virginia Department of Corrections, Community Corrections Division

website.

Select facilities and offices at the top of the page.
Choose the region where the defendant resides (western, eastern or central).
Select probation and parole as the offender status.
Scroll through the section of probation and parole offices to get the phone number for that area.
Call the number listed and provide the full name of the individual to see if the person is on probation or parole in that area.
Individuals who are placed on probation will also have this information listed on their criminal history which can be obtained using the steps listed earlier in this article.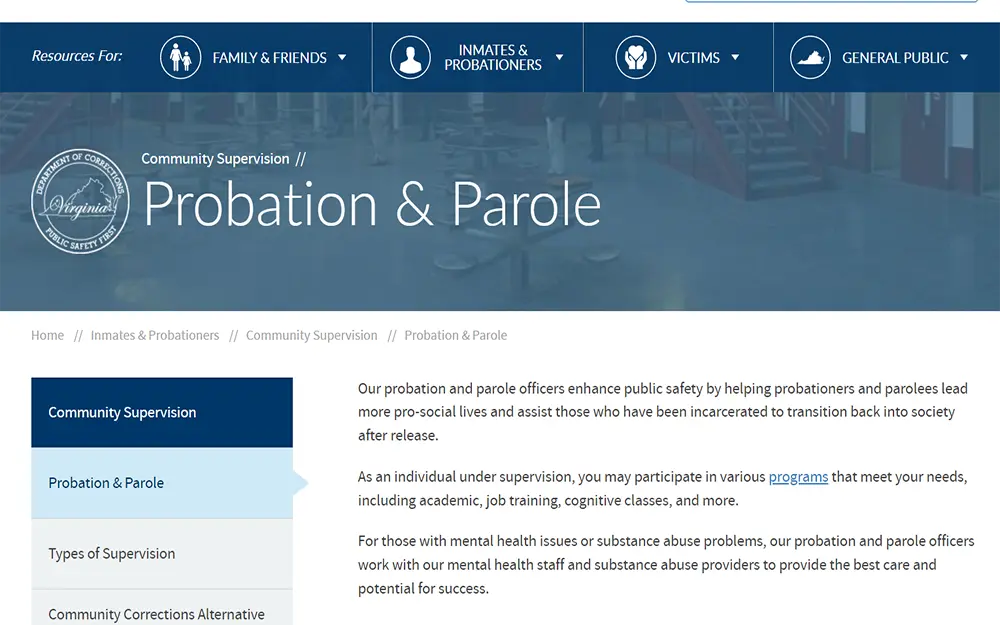 Victims of crimes can also be notified when the defendant is being released from prison either on parole or because the sentence has ended by registering with VINELink. VINELink6 is recognized by Virginia as an official way victims can be notified of inmate movement in the state.
A Step-by-Step Guide on How To Seal or Expunge a Criminal Record in Virginia
Criminal records can follow a person for a lifetime, but Virginia does offer certain individuals the opportunity to expunge records giving the defendant a clean start without a record holding them back.
To be eligible for expungement in Virginia, as outlined under statute 19.2-392.2, the following criteria must be met before a person can submit a petition:
Defendant was acquitted,
Charges are dismissed or dropped,
Person was convicted based on identity theft or mistaken identity,
If a person pled guilty or no contest or was convicted following a trial, the matter is not eligible for expungement.7
To expunge a record, the following steps must be completed:
Obtain a certified copy of the warrant or indictment that resulted in an acquittal, dismissal or dropped charges, or were the result of identity theft or mistaken identity.
File these documents with the court where the matter was dismissed or the defendant was acquitted along with a petition requesting expungement.
The petition is sent to the Commonwealth lawyer for review and a response must be made within 21 days.
The defendant must be fingerprinted by an official law enforcement agency and these prints plus two copies of the expungement petition are forwarded to the Virginia State Police.
The law enforcement agency that takes the defendant's fingerprints will also submit a copy of the prints and petition to the Virginia State Police Central Criminal Records Exchange system.
The CCRE forwards the fingerprints, a copy of the defendant's criminal record and the records to be expunged to the court.
The court rules on the petition. If approved, the expungement order is sent back to the Virginia State Police for proper destruction of the records.7
Expungement can be a difficult process, so it is recommended a person hire an attorney to assist with the process. An attorney can make sure the defendant's rights are being protected and that eligibility is determined before the person petitions the courts.
How To Locate Inmates in VA State Prisons & Federal Prisons
In addition to criminal records and arrest records, many wonder who is in prison in their state. Virginia is home to three federal prisons and one federal work camp. Virginia also has 26 state prisons, so it's important to know how to locate an incarcerated person in order to maintain contact with a loved one, find out about visitation and know where to send mail.
Steps To Find Someone in a Virginia State Prison
To locate a state prisoner in Virginia in order to stay in contact with a loved one or know if someone you know is in state prison, complete these steps:
Navigate to the

Virginia Department of Corrections website

.

Searchers must enter the full last name and at least the first letter of the first name for the subject.
Other information can be added under the additional search options section if available.
Click locate to perform the search.
Scroll through the list of records returned to see if the subject is currently incarcerated. The Virginia DOC inmate locator only shows those that are currently in DOC custody.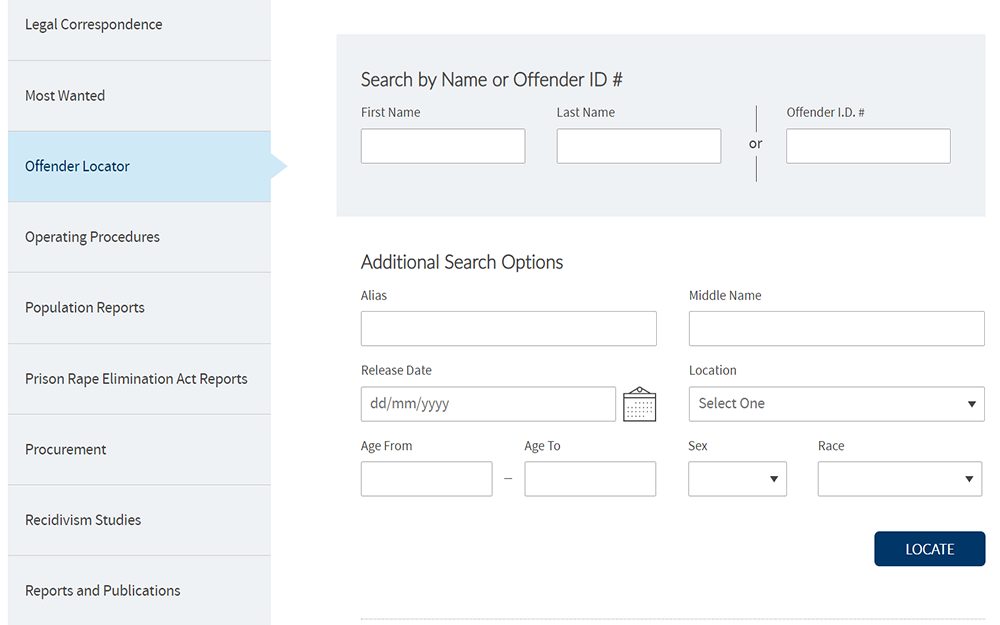 The individuals listed in this search are those that have been tried and convicted, not those with pending charges or warrants.
A Step-by-Step To Locate Someone Federal Prison
To locate federal inmates in the state, and know if someone you know is in federal custody, do the following:
Go to the

Federal Bureau of Prison inmate locator

.

Complete the on-screen form under the find by name tab. If the searcher doesn't have all the information, a first and last name will be enough to start the search.
Review the list of federal inmates to find the subject's record. If the person is currently in custody in Virginia, the record will show the current offender location.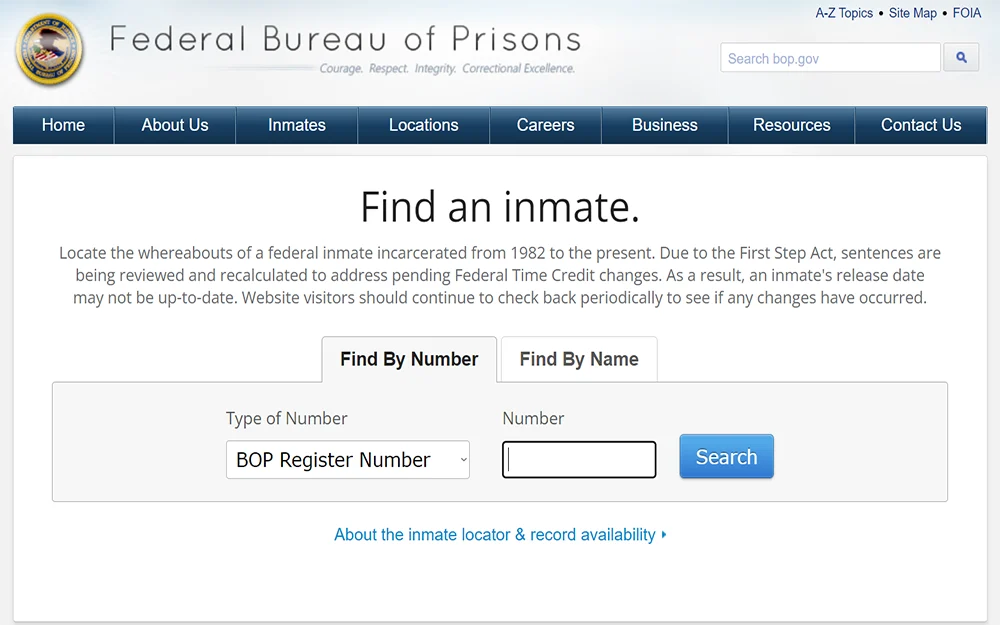 How To Find Out if You or Someone Else Has a Warrant in VA (Virginia Warrant Search Guide)
Another item many people are interested in is knowing who has active warrants in their area or may be asking how do I know if I have been charged with a crime or have a warrant out for their arrest.  Warrants are considered public record, but not every law enforcement agency in the state publishes their active warrant lists.
To check if someone is wanted by law enforcement in your area, do these steps:
Open a search engine such as Google on the computer.
Type "[name of the county or independent city] Virginia warrant search" and press enter.
Check the results to find the agency's official website. For example, when typing "Virginia Newport News warrant search" one of the first results is Newport County's Active Warrants list.
Click the link on the page to view all active warrants, or enter the first and last name of the subject to see if an active warrant is outstanding.
Again, not every law enforcement agency publishes warrant lists or has an online portal to search a warrant list; however, agencies that do encourage those with active warrants to turn themselves in to resolve the issue. Results will also vary.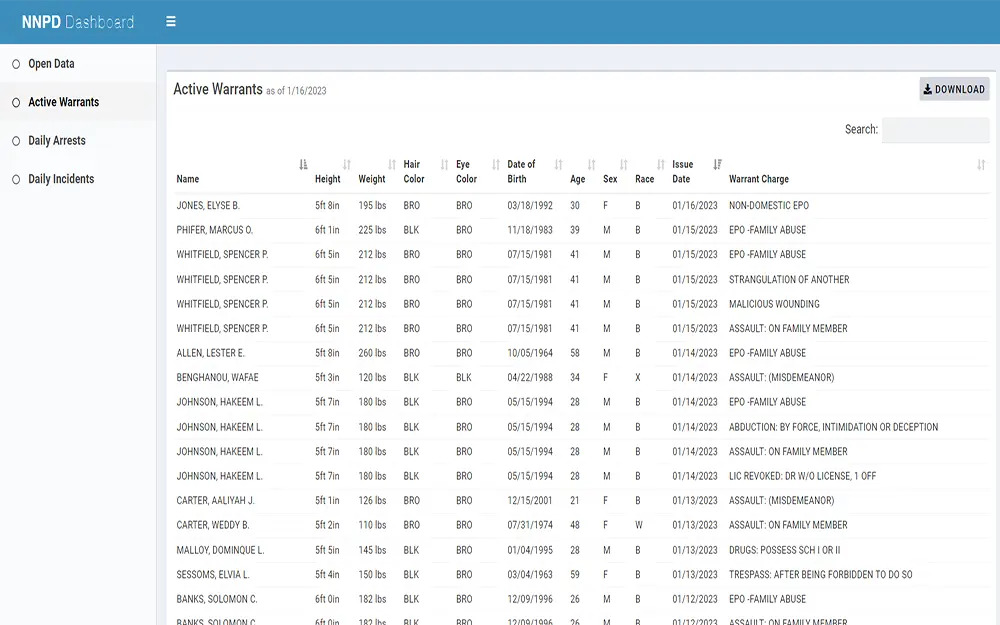 Some agencies may include mugshots or charges, others may just include a physical description of the person and last known location.
Federal warrants are maintained by the US Marshal's Service in the Warrant Information System (WIN) system and are not available for public search. Therefore, individuals in Virginia subject to an active federal warrant will not know until the warrant has been executed.8
A Look at Virginia Background Checks by Agency
There are several agencies in Virginia that either perform background checks or require them for certain individuals. The table below shows which official state agencies complete or require a background check:
Agency That Performs or Requires Background Checks
Screening Reasons
Virginia State Police

Employment screenings
Volunteer screenings
Licensure background checks
Individual/Personal background checks
Foster parents
Adoptions
Adult daycare workers
Childcare workers
Gaming commission certifications
Security guards (armed and unarmed)
Public school employees
Firefighters
Social workers
Substance abuse counselors
Mental health workers

Virginia Department of Health

Emergency Medical Service personnel

Virginia Department of Professional and Occupational Regulation

Architects
Home Inspectors
Athletic agents
Auctioneers
Barbers
Body piercers
Boxers
Branch pilots
Cemetery sales clerks
Contractors
Cosmetologists
Electricians
Elevator engineers
Estheticians
Geologists
Hearing aid specialists
HVAC contractors
Interior designers
Landscapers
Surveyors
Martial arts instructors/professionals
Nail techs
Sewage professionals
Opticians
Plumbers
Polygraph operators
Real estate appraisers and agents
Soil scientists
Tattoo artists
Timeshare managers
Waste management operators
Well water system providers
Wax techs
Wrestlers

Virginia Board of Nursing

Registered nurses
Licensed professional nurses
Massage therapists

Virginia Board of Medicine

Assistant behavioral analysts
Athletic trainers
Behavioral analysts
Chiropractors
Counselors
Medical internships
Acupuncturists
Medical doctors
Midwives
Occupational therapists
Occupational therapy assistants
Osteopathic specialists
Physician assistants
Podiatrists
Radiology techs
Radiology assistants
Respiratory therapists
Surgical techs
Surgical assistants
These screenings search for disqualifying offenses that make a person ineligible for a certain position such as violent felonies or sex offenses.
How To Use the Virginia Sex Offender Registry To Find Offenders
Sex offenses are considered particularly serious, and convicted offenders may be required to register on the state sex offender registry. This misdemeanor and felony registry of convicted sex offenders helps law enforcement keep track of offenders, and helps the public know if an offender resides in their neighborhood.
There is a national sex offender registry; however, the national registry redirects the searcher to the state website. To search the Virginia sex offender registry, do the following:
Go to the

Virginia Sex Offender Registry

.

Read the disclaimer, acknowledge understanding of the disclaimer and confirm the searcher is not a robot, then click accept.
Select the type of search to perform. Searches can be by zip code, address, name, county, city or school location.
Type in the information needed to perform the search and click search.
Review the results to see if the subject of the search is a registered sex offender, or see how many sex offenders live in a geographical area.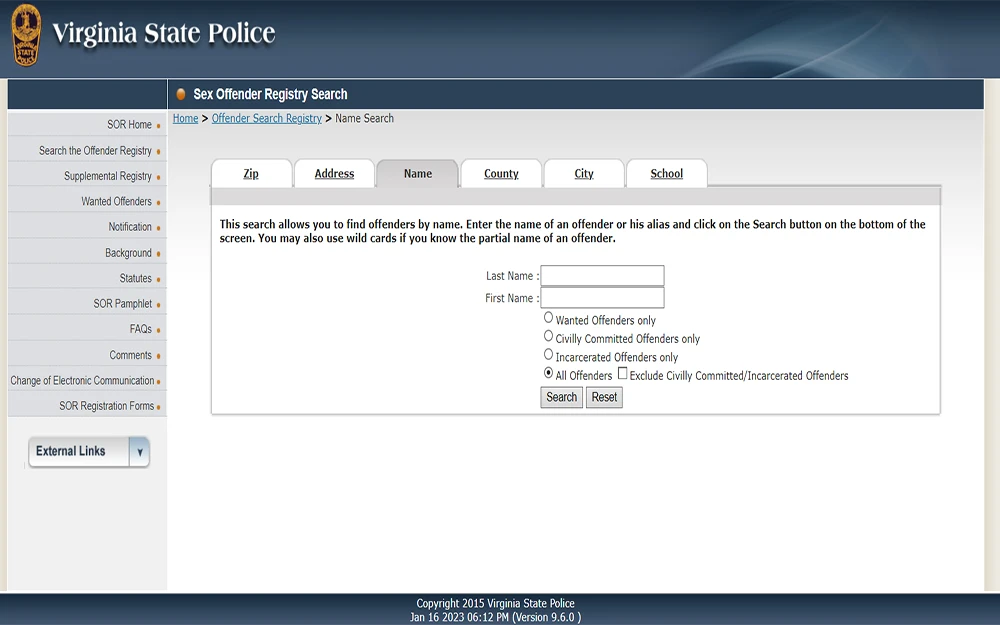 The sex offender registry will show data from the last time the individual registered. Individuals who are non-compliant will show as wanted in the registry for failure to abide by the court's order.
A Review of Virginia Laws Regarding Criminal Records & Arrest Records (Virginia Statutes)
Virginia criminal records  are considered public records unless they have been expunged. Virginia statutes that govern how these records can be obtained and used in making official decisions such as hiring or leasing property are discussed below.
Virginia Open Records Act, Statute 42.1-76 outlines what is considered a public record . This includes arrest records in Virginia and court case information including convictions and non-convictions that have not been sealed or expunged.
Limitations to disclosure include investigative notes while the matter is still pending trial, juvenile court records, and victim information.
Virginia's Freedom of Information Act, Statute 2.2-3700 gives agencies a framework for accepting requests from the public. The statute provides guidance on how records should be stored and disseminated to the public, how to accept requests for records, and which records are protected from disclosure.
Starting 1 July 2020, Virginia prohibited employers from inquiring about marijuana arrests, charges or convictions per Statute 19.2-389.3. Employers cannot ask about these offenses at any stage in the hiring process including initial application, interviews, or at any time after the interview process.
Limitations to this law include where federal law requires disclosure, the individual is applying for a position with local or state law enforcement, or Virginia Code otherwise requires employers to make disclosure.9
Virginia Administrative Code 22VAC40-191-20 describes background checks as the following:
Any affirmation or statement that is sworn to by an official agency or government entity,
Criminal history reports or screenings,
FBI national records checks (rap sheet), and
Central registry searches or checks.
The code also outlines what must be included in background checks, and what information must be excluded (such as juvenile records or sealed matters).10
Virginia also passed its own ban the box code (Statute 15.2-1505.3) effective 1 July 2020 prohibiting employers from inquiring about criminal history on applications. Exceptions to the statute include applications to work for law enforcement agencies, local school boards, or sensitive positions.
The statute also allows for questions about criminal history to be made during or following an interview.
Federal laws that govern how background checks or people finder searches can be used in Virginia include the Fair Credit Reporting Act which limits lookback period to credit history and non-convictions to seven years, and requires written notification to the subject when adverse action is taken based on a background check.
Federal anti-discrimination laws are enforced by the Equal Employment Opportunity Commission which makes sure criminal record checks are not used in an unfair or discriminatory manner.
When wanting to learn more about a person's past such as if they have an arrest record in Virginia, it's vital to know where to look and how. Understanding how to search Virginia criminal records can be complex, and this free guide can help individuals conduct searches and find the information needed to make decisions.
1Pending Charges: Everything Virginians Need to Know. (2020, October 2). Cook Attorneys. Retrieved December 18, 2022, from <https://cookattorneys.com/pending-charges-everything-virginians-need-to-know/>
2National Criminal Background Check. (2022). LIS Virginia Law. Retrieved December 18, 2022, from <https://law.lis.virginia.gov/vacode/19.2-392.02/>
3Inmate Information. (n.d.). Northwestern Regional Adult Detention Center. Retrieved January 14, 2023, from <https://www.nradc.com/inmate-information>
4Inmate Information. (n.d.). Northwestern Regional Adult Detention Center. Retrieved December 18, 2022, from <https://www.nradc.com/inmate-information>
5How Bail Bonds Work in Virginia | Norfolk & Virginia Beach. (n.d.). How Bail Bonds Work. Retrieved December 18, 2022, from <https://howbailbondswork.com/how-bail-bonds-work-in-virginia>
6VINE. (2022). VINELink. Retrieved December 18, 2022, from <https://vinelink.vineapps.com/state/VA>
7When May I Be Eligible for an Expungement in Virginia? (n.d.). Greenspun Shapiro. Retrieved December 18, 2022, from <https://www.greenspunlaw.com/faqs/northern-virginia-expungement-attorneys.cfm>
8Warrant Information System. (n.d.). U.S. Marshals Service. Retrieved December 18, 2022, from <https://www.usmarshals.gov/freedom-of-information-act/reading-room/warrant-information-system>
9Marijuana possession limits to disclosure. (2022). LIS Virginia Law. Retrieved December 18, 2022, from <https://law.lis.virginia.gov/vacode/19.2-389.3/>
1022VAC40-191-20. Describing background checks. (n.d.). Virginia Law. Retrieved December 18, 2022, from <https://law.lis.virginia.gov/admincode/title22/agency40/chapter191/section20/>
11Arlington County Sheriff's Office Inmate Query. Accessed 2 May 2023. <https://inmatewebquery.arlingtonva.us/>
12Middle River Regional Jail. Accessed 2 May 2023. <https://www.mrrjva.gov/>
13provided by OSSI." Danville P2C – provided by OSSI. Accessed 2 May 2023. <https://p2c.danvilleva.gov/jailinmates.aspx>
14NCJI." VSP. Accessed 2 May 2023. <https://vspapps.vsp.virginia.gov/catspublic/public/publicHome.html>
15How Bail Bonds Work in Virginia | Norfolk & Virginia Beach Bail." How Bail Bonds Work. Accessed 2 May 2023. <https://howbailbondswork.com/how-bail-bonds-work-in-virginia>
16Virginia Judiciary Online Case Information System." Virginia's Judicial System. Accessed 2 May 2023. <https://eapps.courts.state.va.us/ocis/search>
17Courts." Bristol, TN. Accessed 2 May 2023. <https://www.bristoltn.org/518/Courts>
18Probation & Parole — Virginia Department of Corrections." Virginia Department of Corrections. Accessed 2 May 2023. <https://vadoc.virginia.gov/inmates-and-probationers/community-supervision/probation-parole/>
19Offender Locator — Virginia Department of Corrections." Virginia Department of Corrections. Accessed 2 May 2023. <https://vadoc.virginia.gov/general-public/offender-locator/>
20BOP: Federal Inmates By Number." Federal Bureau of Prisons. Accessed 2 May 2023. <https://www.bop.gov/inmateloc/>
21Active Outstanding Warrants." Newport News, VA. Accessed 2 May 2023. <https://www.nnva.gov/499/Active-Outstanding-Warrants>
22Virginia State Police. <https://sex-offender.vsp.virginia.gov/sor/zipSearch.html>