Individuals who want to learn how to search free Virginia public records can find anyone's information for free, whether that be criminal records, marriage certificates, divorce records, employment history, and other crucial data.
Learning the basics of how to access public records for free through local, state, and federal resources can help individuals quickly gather comprehensive information on another person.
Is Virginia an Open Public Record State?
The Virginia Freedom of Information Act ensures that residents of Virginia are able to access public records currently in custody by a governing body or its employees.1 The government's affairs are intended to be public unless specifically exempt by the government, such as sealed or expunged records.
The Virginia Freedom of Information Act states that in the section 'Confidentiality safeguarded' that all records should be open to public access if they are not made confidential due to a legal stipulation.
Furthermore, any person who requests public records does not have to give a purpose. The only exceptions to the public records include some criminal investigations, personnel records, records relating to public safety, records relating to administrative investigations, records of specific public bodies, police reports, tax returns, medical records, real estate, client privilege, and working papers.2
Or in other words, a citizen of Virginia can request public records, except for those limited by the right of incarcerated felons and the other stipulations above.
Therefore, free criminal records, court records, vital records, and inmate records are accessible to residents of Virginia in most cases.
Criminal Records of Virginia (VA)
Criminal records contain a summary of a person's history with law enforcement, including the following information:
Convictions
Arrests
Sentence
Violations
Dismissals
Not guilty verdicts
Personal descriptors
Aliases and names
Identifying characteristics
Social security number
Fingerprints, and
Federal identification numbers3
According to the Freedom of Information Act, criminal records are public and accessible to the public except for specific documents or reasons. All records kept by governmental agencies within the state of Virginia are public.
Furthermore, Virginia is unique in the sense that county and city criminal justice agencies don't share responsibilities like the other 49 states in the United States. While this doesn't have much bearing on looking up criminal records, it makes the process simpler since there are fewer places to look for certain records within a vicinity.
Regardless, Virginia criminal records can also be viewed through some third-party sites. In this case, paid third-party search sites can be more reliable and comprehensive than free searches since free searches may return incomplete and inaccurate information, whereas paid searches are more comprehensive and check many record-keeping agencies at once. However, the majority of the time, individuals can find the information they need through local, state, and federal resources.
Does Every Citizen Have Access to Criminal Records in Virginia?
Yes, every citizen has access to Virginia public records as long as the records aren't restricted. 
Criminal records are made public in Virginia through the Virginia Freedom of Information Act. The County Sheriff will maintain free Virginia arrest records and if necessary, facilitate requests to the Department of Public Safety to access records.
How To Locate & Obtain Virginia Public Criminal Records
Searchers can find criminal records in Virginia through the Virginia State Police.
Visit the Virginia State Police website
Click on Services
Click on Criminal Record Check
Fill out the SP-167 request form
Get a check or money order
Mail the information to: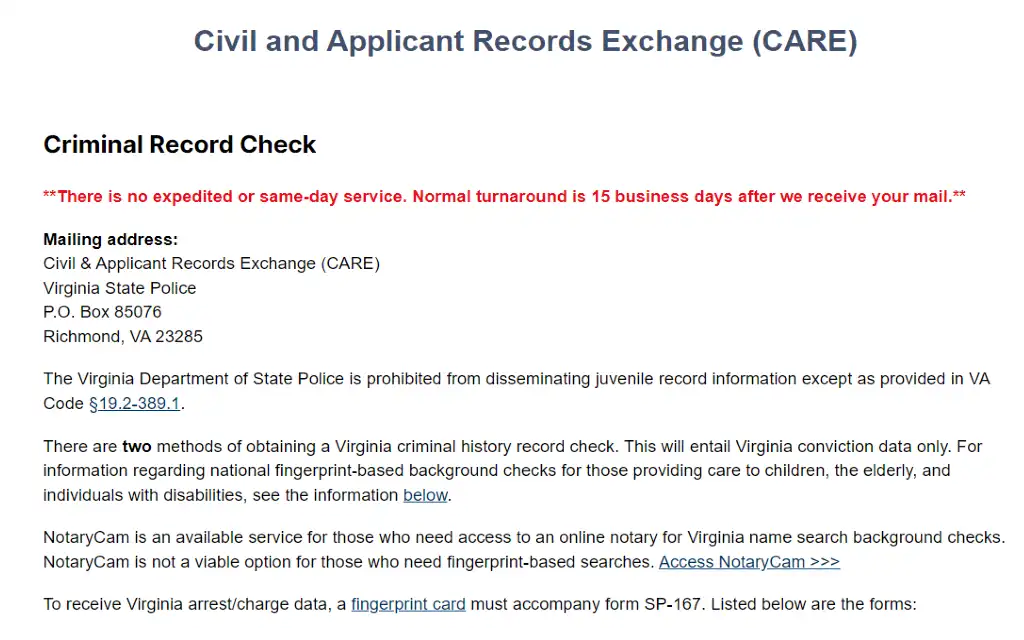 Virginia State Police
Civil & Applicants Records Exchange
PO Box 85076
Richmond, VA 23285
The only other option is to use the SP-230 form as an approved Virginia agency. This is only acceptable for those who work in specific organizations or professions, such as domestic adoptions or hospital pharmacy employees.
Additionally, criminal records in VA can be obtained through county Clerk of Courts, Court Case Access systems, and public terminals at county courthouses. We'll touch more on this below.
Can People See Juvenile Records in Virginia?
Juvenile records are not Virginia public records for anyone of the general public to view although some law enforcement agencies will be able to see them when necessary. 
Juvenile criminal records involve the history of a minor who has committed a crime in the state of Virginia. In this case, the person is not considered to be an 'adult' in the legal system and has been charged as a juvenile. Anyone under the age of 18 is considered a minor and will not be tried as an adult in a court of law.
The Virginia Department of Juvenile Justice handles juvenile cases, detention facilities, and juvenile court. The Department of Juvenile Justice only gives juvenile records to former juveniles once they are of legal age, parents, or attorneys of the juvenile subjects.
Third-party requesters who want to find information on a juvenile and have gained permission from the parent must fill out the Application for Release of Records and Information form and send the form to:
Lara Todd – Virginia Department of Juvenile Justice
600 East Main St.
20th Floor
Richmond, Virginia 23218
Attorneys, parents and individuals with a juvenile record who are now 18 years of age or older can follow the same process by filling out various forms found here. For additional questions, searchers can contact Lara Todd at 804.350.5490 or by email [email protected].
Find Out If Someone Has a Warrant: Free Virginia Warrant Search
An arrest warrant in Virginia is a court order by a judge that allows local law enforcement to perform a search of property, seizure of property, or arrest of an individual who is considered to be potentially guilty of a crime. An arrest warrant is an active warrant to investigate the subject in question.
The details included in the Virginia arrest warrant are as follows:
Name of the subject of the warrant
Alleged offense
Expiration date
Time and location of arrest
Name of the judge issuing the warrant
Individuals can find out if someone has a warrant in Virginia by checking case records via the Judicial System and case record search tool.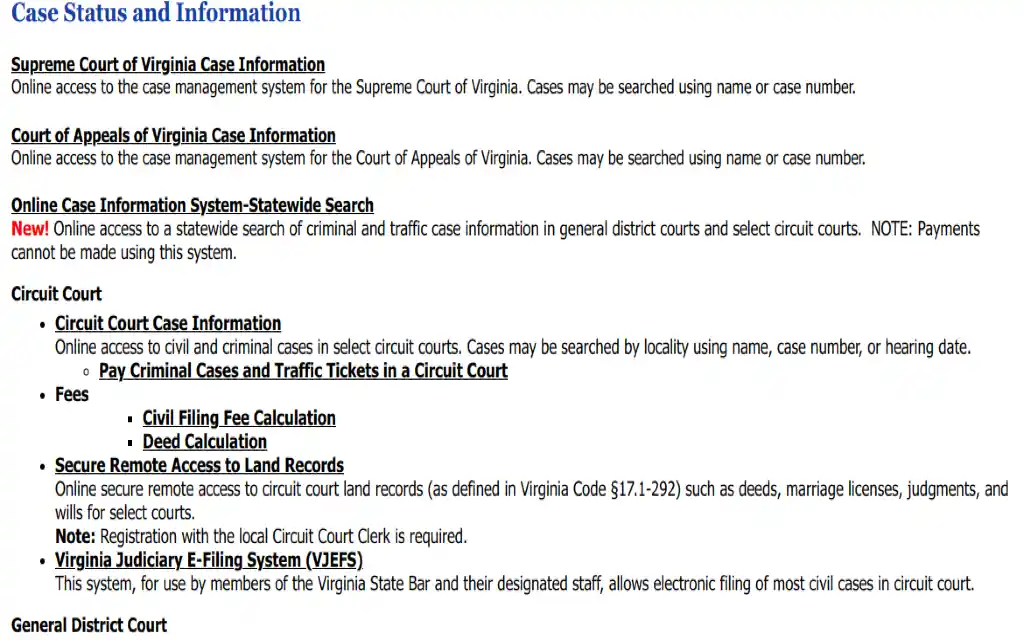 The other way to see someone's warrant in Virginia is to contact the Virginia State Police by submitting an online request form or getting ahold of the nearby county sheriff's office since some countries contain warrant lists on their websites. For example, the city of Virginia Beach has a warrant tool on its webpage.
Use the Virginia Sex Offender Registry To Avoid Sexual Predators
The Virginia sex offender Registry contains a list of sex offenders currently residing in the Commonwealth of Virginia. The Virginia State Police has a central repository, whereas county law enforcement contains a list of sex offenders in each county.
Searches can find information by visiting the Virginia Sex Offender Registry Search on the VSP website or by using the National Sex Offender Registry.
Background Checks – Virginia
There are different background checks used in Virginia to find out information about someone's past, whether as a curious individual, as an employer or a potential business partner. The two most common background types to use to find information on another person are a name-based background check or fingerprint-based background check but these are typically used for professional purposes or requesting your own information.
For personal reasons, individuals can use a level 1 or 2 check but when seeking information on another person, personal background checks must be done through third-party sites or by manually searching government agencies outline in this guide.
Criminal Background Check (State Level, Name-Based)
The first type of background check that is used in Virginia is the name-based, state-level background check and oftentimes ran by the Virginia state police or local county sheriff offices. In Virginia, criminal history is maintained forever unless they are sealed, expunged, or barred from showing up on background checks due to the Fair Credit Reporting Act which limits reporting of most negative information to 7 years.
Individuals can find a criminal record by using the Civil and Applicants record Exchange on the VSP website to find the following information:
Names and aliases
Addresses
Arrest record
Warrants
Felonies
Fingerprints
Mugshots
Driver license number
Date of birth
Social security number
A criminal background check typically takes between 1-3 business days on average.4
FBI Background Check (Federal Level, Fingerprint-Based)
The second type of background check in Virginia comprises all federal information on an individual. This type of check requires consent and fingerprints from the individual to find out information in the central FBI database.
Individuals must obtain fingerprints from the subject.

The subject must obtain fingerprints from a USPS location to submit electronically.

The searcher can fill out the online background check information through the FBI website.
The alternative is to use a mail-in method by filling out the information form, obtaining a set of fingerprints on the standard  fingerprinting card, submitting payment online or using a money order or cashier's check, and sending the items to the following address:
FBI CJIS Division – Summary Request
1000 Custer Hollow Road
Clarksburg, WV 26306
An employment background check usually takes between 2-5 business days.5
Virginia Court Records (Explained)
Virginia's court system includes four levels and magistrates as judicial officers in the state.6 The Virginia Court System is as follows:
Supreme Court — The Supreme Court contains both original and appellate jurisdiction
Court of Appeals — Appealing courts provides appellate review of circuit courts, final decisions, and administrative agency cases
Circuit Courts — Circuit courts handle civil matters less than $25,000 through various trials

Juvenile District Courts
Juvenile and Domestic Relations District Courts — handles cases involving children and minors who need legal help

Committee on District Courts — The General District Court involves all cases regarding misdemeanors and felonies that are violations of the county or city laws
How To View Anyone's Court Records & Criminal History in Virginia (VA)
There are usually three types of criminal records — an FBI rap sheet, state criminal record, and criminal history report.7 Individuals can find anyone's court records and criminal history in Virginia by using the Civil and Applicant Records Exchange. Criminal history records are available for public consumption with the exemption of those provided in the specific Virginia statute 19.2-389.1.
A person can request a criminal history records check using form SP-167 form and mail it to the Virginia State Police. Individuals, the general public, private companies, and agencies can all use this method to find court records and criminal history.
Court records are departmental records about people involved in litigation in a court of law.7  Individuals can find court records in Virginia by doing the following steps:
Identify where the cases were filed (which courthouse)
Find the clerk of courts/custodian of the court
Request access to the court records in person through the courthouse or online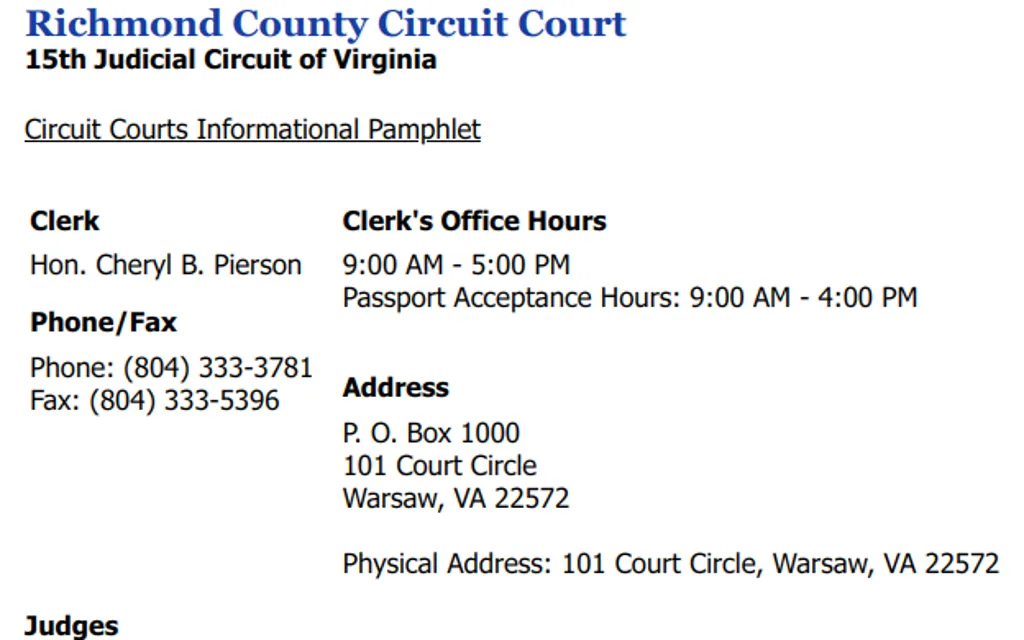 Find Bankruptcy Records in Virginia
Virginia bankruptcy records are the financial details of an individual who cannot meet their financial obligations and must file for bankruptcy. The bankruptcy courts in Virginia contain information regarding the person in debt. These courts are located in Rutland and Burlington, Virginia.
Bankruptcy records are public information under the Freedom of Information Act. Although some information is sensitive and protected by national security, users can still view the majority of bankruptcy records for those in Virginia. The only information required is the bankruptcy case number or the name of the debtor.
Bankruptcy records are maintained by the state public information act. Parties can view or make copies of the bankruptcy records by contacting their local court clerk or custodian by using the online courthouse finder and contact information.
In-person Bankruptcy Requests:
The quickest way to obtain bankruptcy records in person is to find the court of the petition by suing the courthouse finder. the state of Virginia contains two bankruptcy districts: the Western Bankruptcy District and the Eastern bankruptcy District.
The Districts are broken down into counties and divisions. Individuals must use the online directory for the Eastern courts or the Western Courts to find bankruptcy filings.
Mail-in Bankruptcy Requests:
The second way to obtain bankruptcy records in Virginia is to mail a written request containing the necessary information and details. Users must attach the payment form and send the envelope to the respective bankruptcy court.
Online Bankruptcy Search and Request:
The last way to find bankruptcy records in Virginia is to use the PACER system. Users will have to create a PACER account, provide billing details, and perform a search using the debtor's name or case number.
VA Inmate Records
Virginia inmate records contain official documents about those incarcerated within the Commonwealth of Virginia. Criminal records contain important information about the criminal history of a person, including status, location, release date, parole date, crime committed, etc.
Inmate records are public knowledge according to the state of Virginia. Therefore, third-party websites and governmental resources can be used to access VA inmate records. To find inmate records, searchers should know the basic information of the subject, such as the location of the record and the name of the person in question.
The steps that searchers should take before they begin to use governmental resources include the following:
Find where the inmate is being held
Determine if the subject is in local jail or prison
Determine if the location contains online inmate records
If there are no online records, contact the custodian to find the inmate records
If there is no custodian information, contact the county clerk, county sheriff, city jail, or Virginia police Department
Once researchers have determined where the person may be held by using the Virginia Department of Corrections and browsing the VADOC directory since they can help find inmate records.
Searchers can perform a prison inmate search by submitting a Freedom of Information Act form or separate contact form to the faculty housing the person. For a prison managed by the VADOC, individuals must send a request to the Warden using their contact information. Furthermore, the VADOC system contains a prison lookup tool that can help a person find an offender.
Another effective way that people in most states, including Virginia, can find an inmate is by using VineLink. Searchers can use the site to search for someone, find service providers, or look up registrations.
The last way a person can find an inmate is to contact the Department of Corrections by sending a written request to the following address:
Virginia Department of Corrections
PO Box 26963
Richmond, VA 23261
How Do I Look Up Jail Records & Recent Arrests in Virginia
Individuals can look up VA jail records and recent arrests by contacting the local county and regional jails. To find an offender in a county or regional jail, individuals should find the local law enforcement website and look at their inmate list or contact information.
View the Local and Regional Jails Directory
Find the local jail that is in the desired area (ex Arlington County Detention Center)
 Visit the center's website. (ex Arlington County Sheriff's Office)
Use the Arlington County Sheriff's Office Inmate Query or contact information to speak to an employee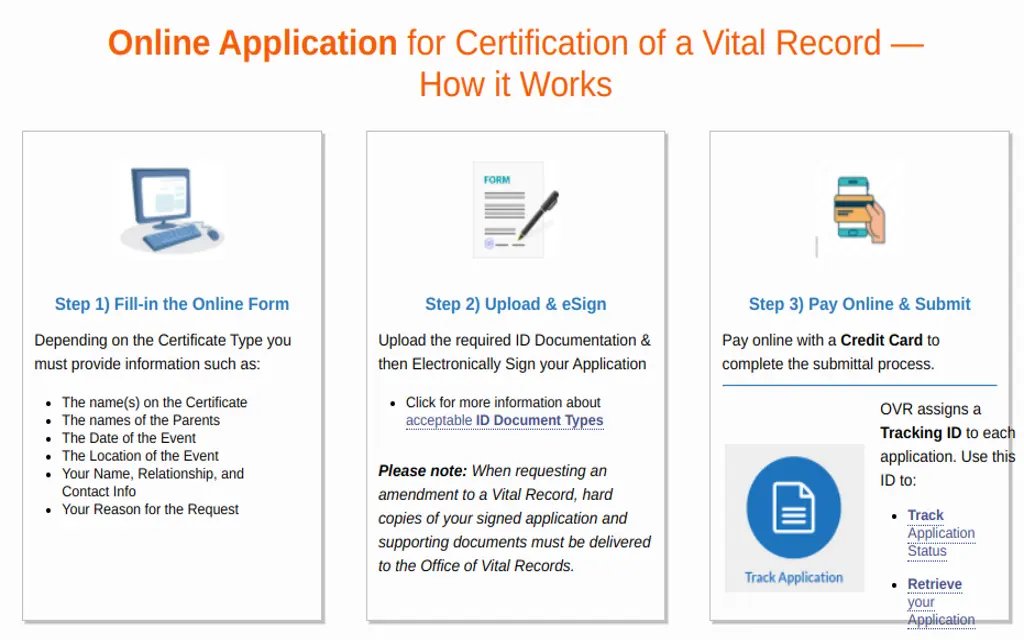 What's the Best Way To Find Mugshots in Virginia?
Individuals can typically find past mugshots by determining the location in which a person is being held. Generally, inmates of recent arrests will be in a county jail or city jail, but there are regional jails too.
Most facilities will have an online directory or inmate roster for viewing. If not, VineLink has free mugshots that are viewable online, but it depends if the law enforcement agency publicizes or shares these images with VineLink.
Find Virginia Prison Inmates & Associated Records
Individuals can find prison inmates by using federal and state resources.
Federal inmates can be found using the Bureau of Prisons website inmate locator tool.
State inmates can be found through the Virginia Department of Corrections website and locator tool.
The last way to find prison inmates is to use the  USA Gov site to search the Corrections Department by State and click on 'Virginia'. This can also be helpful to find inmates in other state prisons.
Vital Records: Virginia
Vital records are Virginia public records that contain information regarding birth, death, marriage, and divorce certificates. These records of life events are kept by the governmental authorities at both the county and state levels.8
These records, such as the divorced percentage of people in every Virginia county, were also made available through the United States Census Bureau.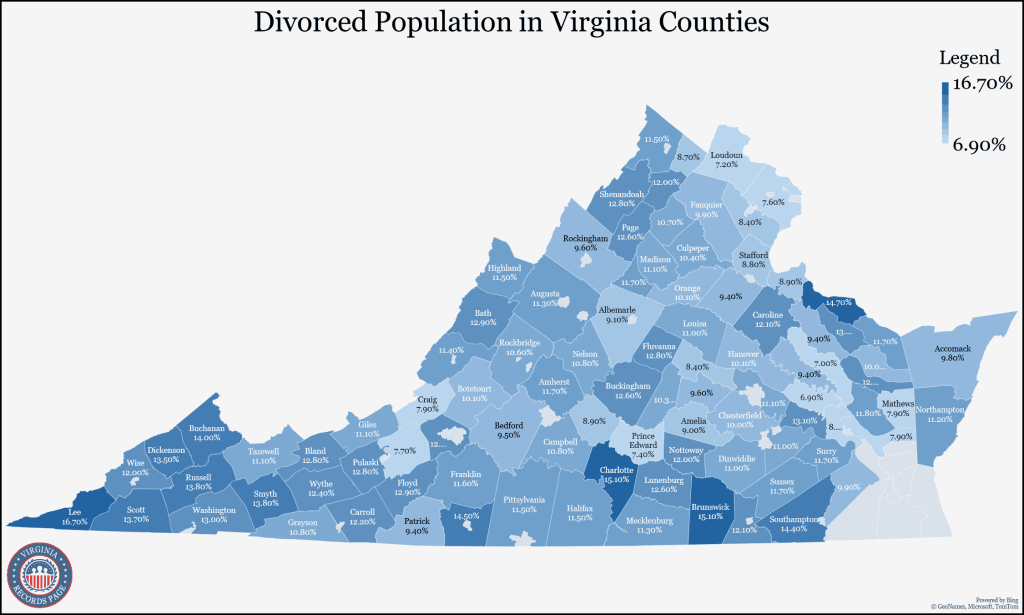 The Office of Vital Records contains this information. Searchers can obtain a vital record by visiting a vital record walk-in location or submitting an online application form.
Do Citizens Have Access To All Virginia Vital Records? (Free Marriage Records in Virginia)
Virginian citizens have access to all events that occurred within Virginia. Citizens can access information online or through one of the in-person locations for births after 1912, marriages after 1936, divorce after 1918, and deaths after 1912.
Vital records are available for a fee of $12 for each certificate or copy or search of a record.
How Can I Find Out If Someone is Married or Divorced? (Free Virginia Divorce Records and Marriage Records)
A person can find out if someone was married or divorced in Virginia by contacting the county clerk's office in which the marriage or divorce took place. The VA Judicial System website has a list of the circuit courts and contact information.
Individuals can apply for a certification of a marriage or divorce record by filling out the form and mailing it to a Vital Records office or submitting online.
How To Order Death & Birth Certificates in Virginia
A death certificate is an official government document that states the cause of death, location of death, and time of death.9 Death certificates are sometimes required for proof of legal purposes, such as claiming life insurance, getting married, or organizing a funeral.
A birth certificate is a legal proof of identity and states birth and registration of the individual have occurred.10
Individuals can order certified copies of death and birth certificates in Virginia at one of the walk-in locations from 1912 until the present. For a certified copy of the birth certificate, individuals must bring the necessary ID and application form. Those who can obtain certified copies must be only immediate family members or legal guardians.
For a death certificate, individuals can fill out the online application with the correct ID to an in-person location or online method.
If a person requires a quicker copy that is not certified, they can obtain one through VitalChek.
1Virginia FOIA Laws – National Freedom of Information Coalition. (n.d.). National Freedom of Information Coalition. Retrieved June 11, 2022, from <https://www.nfoic.org/virginia-foia-laws/>
2Access to Public Records in Virginia. (n.d.). Digital Media Law Project. Retrieved June 11, 2022, from <https://www.dmlp.org/legal-guide/access-public-records-virginia>
3Information about Criminal Records. (n.d.). Legal Aid at Work. Retrieved June 11, 2022, from <https://legalaidatwork.org/factsheet/records/>
4Korolevich, S. (2021, February 10). How Long Does A Background Check Take? GoodHire. Retrieved June 11, 2022, from <https://www.goodhire.com/blog/how-long-do-background-checks-take/>
5How Long Do Pre-Employment Background Checks Take? (2022, May 25). Indeed. Retrieved June 11, 2022, from <https://www.indeed.com/career-advice/career-development/how-long-do-a-background-check-take-for-a-job>
6Introduction to Virginia's Judicial System – Virginia Rules. (n.d.). Virginia Rules. Retrieved June 11, 2022, from <https://virginiarules.org/varules_topics/introduction-to-virginias-judicial-system/>
7Civil and Applicant Records Exchange (CARE) – Virginia State Police. (n.d.). Virginia State Police. Retrieved June 11, 2022, <https://vsp.virginia.gov/services/criminal-background/>
8Vital record. (n.d.). Wikipedia. Retrieved June 11, 2022, from <https://en.wikipedia.org/wiki/Vital_record>
9What is a Death Certificate and why do you need one? (2016, December 13). Science Care. Retrieved June 11, 2022, from <https://www.sciencecare.com/blog/death-certificate-need-one>
10Selim, L. (2019, December 10). What is birth registration and why does it matter? UNICEF. Retrieved June 11, 2022, from <https://www.unicef.org/stories/what-birth-registration-and-why-does-it-matter>
11Virginia State Police. Accessed 5 May 2023. <https://vsp.virginia.gov/services/criminal-background/>
12Virginia's Judicial System. Accessed 5 May 2023. <https://www.vacourts.gov/caseinfo/home.html>
13Virginia's Judicial System. Accessed 5 May 2023. <https://www.vacourts.gov/courts/circuit/richmond_county/home.html>
14Virginia Department of Health. Accessed 5 May 2023. <https://vr-fhs.vdh.virginia.gov/vvestsapps/f?p=140:1>